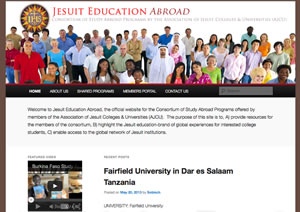 Project: Jesuit Education Abroad
Type: Consortium
Location: USA
URL: www.jesuiteducationabroad.org
Work: The Jesuit Education Abroad website is the official website for the consortium of study abroad programs through the Jesuit colleges and universities in the US. It was created to support the 28-member institutions in the United States that belong to the American Jesuit schools. This is a good example of a website in which a representative of each member school is given secured access to maintain their particular program website without affecting other institutions program site.
Testimonial:
"Vid took all the vexing and time consuming details of the web design process off our hands, thereby allowing us to concentrate on the message that we wanted to send to the world.  He set up a beautiful, functional, and inspiring website for us, and even trained our staff in the art of web page maintenance so that we could carry out the essential functions on our own.  This is been a huge gain for our organization." – Andreas Sobisch, Ph.D., Consortium Chair