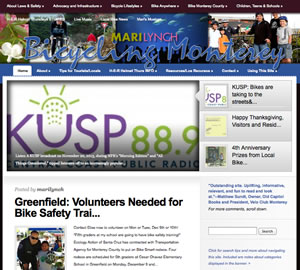 Project: Bicycling Monterey
Type: Blog
Location: Monterey, CA
URL: http://marilynch.com/blog/
Work: Mari Lynch, the owner of Fine Wordworking in Monterey, California, is actively involved as a volunteer in her town on issues of sustainability, care for children, and others. Her blog, Bicycling Monterey, needed a redesign using a wordpress theme.  In 2012, the Transportation Agency for Monterey County recognized her blog by awarding her the Transportation Excellence Award.
Testimonial:
"When I first began sharing tips for bicycling Monterey, someone said, "The ideas and writing are great, but no one is going to look at them the way they're presented online now" (in an ultra simple blog format, using a default theme). Knowing this was a public service, they offered to contribute by hiring a professional, and I chose Vid Raatior, Raatior Design. For a very reasonable fee, Vid vastly improved the website. As a result, the Bicycling Monterey site and projects were well received, even receiving a distinguished award.
Vid Raatior has the highest integrity, and he is also consistently a joy to interact with. I am so grateful to have met Vid, and I am honored to be able to recommend him." – Mari Lynch, Founder, Bicycling Monterey