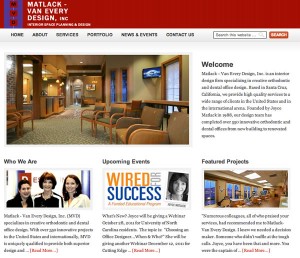 Project: Matlack-VanEvery Design
Type: Business
Location: Santa Cruz, CA
URL: www.matlack-vaneverydesign.com
Work: This is an interior design firm specializing in creative orthodontic and dental office designs. Based in Santa Cruz, CA, the small business needed a complete overhaul to keep up with its national and international success. The project involved an entirely new web design which compliments its branding and upbeat, modern, and hip design philosophy.
Testimonial:
"Matlack/Van Every Design is a commercial interior design firm working throughout the US and internationally. Vid Raatior (Raatior Design) created our company website which definitely increased our marketing power and branding. Vid was able to understand and translate the vision our web site required. Vid is creative, listens to the clients needs, and is very punctual." – Joyce Matlack Van Every, Principal