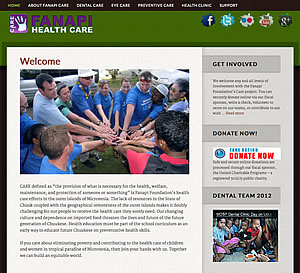 Project: Fanapi CARE Project
Type: Humanitarian
Location: Santa Cruz, CA
URL: www.care.fanapi.org
Work: The Fanapi CARE project  is part of the Fanapi Foundation's efforts of bringing teams of volunteers to operate healthcare clinics for children and women in remote locations in Chuuk, FSM. The work entailed designing a new website to be used for the fundraising efforts of  the teams. I used WordPress to design their website.
from the website:
The Fanapi CARE project is an expansion of the Micronesia Dental Support Project (MDSP) which was a California-based project of the United Charitable Programs (UCP), a federally registered 501(c)3 public charity organization based in Virginia. MDSP's mission is to make quality dental care and equipment accessible to the people of Micronesia specifically the underserved population in the remote outer islands. We are seeking funding to bring another team of volunteers comprising of dentists, community health educators, and technicians to operate remote dental clinics in Chuuk on June 22- 30, 2012 while engaging in community education focusing on preventative care as well as capacity-building meetings with the community leaders in the outer islands of Chuuk in areas of education, healthcare, advocacy, and social services.