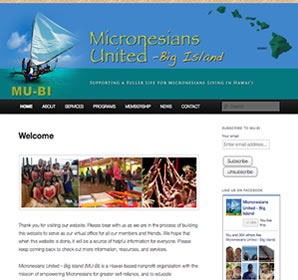 Project: Micronesians United – Big Island
Type: Association
Location: Hilo, HI
URL: www.mu-bi.org
Work: Micronesians United – Big Island (MU-BI) is a Hawaii-based nonprofit organization with the mission of empowering Micronesians for greater self-reliance, and to educate Micronesians and the Big Island community about their respective cultures, rights, and responsibilities. This is a completely new website for this all-volunteer nonprofit organization.
From the website:
MU-BI has been involved in educational efforts and outreach to State, County and private agencies on behalf of Micronesians and has occasionally intervened in cases where there were communication difficulties and cultural misunderstanding. MU-BI has provided expertise and worked with pastors and others in conflict resolution with the schools, housing and other social services. MU-BI is documenting some of these cultural miscommunication and discrimination cases in ways that confidentiality is protected in order to develop intercultural training tools. MU-BI has provided limited translation services through some members, but those services should be compensated as required by state law.