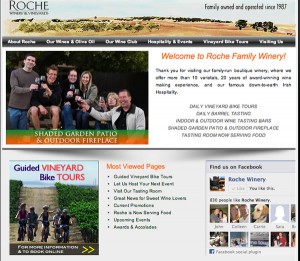 Project: Roche Winery
Type: Winery
Location: Sonoma, CA
URL: www.rochewinery.com
Work: Managed by Brendan Roche, the winery needed a new professional-looking website that is accessible to its customers. The project involved working closely with the marketing department to design a website that closely matches the overall branding and marketing plans for the company. It included the designing of graphics and images that are found in their printed literature.
from the website…
Already one of the most popular new spots in the downtown Sonoma Square, the new Roche Winery tasting room is housed in a lovely 1940's craftsman style building that offers a relaxed environment for both indoor and outdoor tasting. Customers are be able to taste the family's award winning wine at the indoor bar, while seated and relaxing on the porch overlooking the square, beside the outdoor fireplace, or at comfortable outdoor tables on the shaded patio while taking in all of the action of downtown Sonoma.