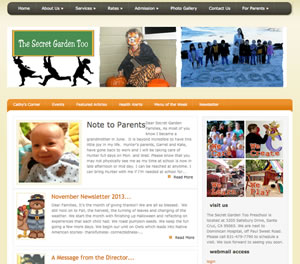 Project: The Secret Garden Too Preschool
Type: Preschool
Location: Santa Cruz, CA
URL: www.thesecretgardentoopreschool.com
Work: We had our daughter Keala in this wonderful preschool located in the seaside town of Santa Cruz, California. They had a basic website that did not adequately reflect all the fantastic things they were doing. It was originally designed using the Dreamweaver platform which tied them to one computer to make any changes. In exchange for tuition fees for my daughter, we set out to redesign their website using a WordPress theme. It enabled Cathy to update, post news, and post photos from any computer that is connected to the internet.
from the website…
Through a literature based curriculum we nurture the child's development with emphasis on communication and celebration of life by exploring the wonders of our world and it's cultures and traditions. Our daily emphasis is on the child's developmental stages and encouragement of age appropriate activities. Our goal is to provide a safe and stimulating atmosphere while meeting the individual needs of each child.