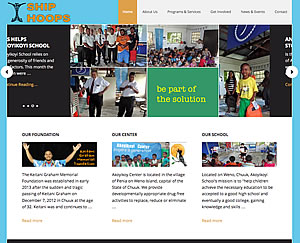 Project: SHIP – HOOPS
Type: Nonprofit / School
Location: Chuuk, FSM
URL: www.ship-hoops.org
Work: This is a project that is near and dear to my heart as it supports the SHIP-HOOPS non-profit organization that was co-founded and led by the late Keitani Graham. Kei, as he was fondly called, a former student of mine and friend and inspiration to so many Chuukese youth was tragically taken from this world in December, 2012, not long after returning from wrestling in the London Olympics representing the FSM. He was the CEO for the SHIP – HOOPS organization based on Weno, Chuuk. The nonprofit organization was founded in 1989 to serve the children and youth of Chuuk State in the Federated States of Micronesia. I was honored to be asked by Kei's dad, Clark, to help redesign their website to make it more user-friendly, appealing, and easier to manage from Chuuk.
Testimonial
"Raatior Design made our website stand out: it Pops!. He grasped our message, believed in our work, and that comes through when you visit our website. He designs with his heart not just his head, and that has made a great difference. Thank you Raatior Design." – Clark Graham, CEO